Initial situation and solution
The e-mail channel has the highest ROI. Collecting addresses is worthwhile. Own addresses with existing permission can be used in a targeted manner and do not depend on the CPM, the promotional prices of advertisers or the success of a social media stream.
Define rules where the invitation to register will appear to the website user:
immediately when loading the website, the offer is fully focused on e-mail communication
only after a few seconds of staying on the website
by scrolling on the home page
only after the umpteenth visit to the website
To increase the registration rate, you can provide the registration with additional incentives:
5% on the first purchase after newsletter registration
Exclusive discounts
Part of the community
Procedure
It is sufficient to request only the e-mail address in a first step. After confirmation, further information can be requested by means of the "complete your profile" button. In a next phase and again in connection with the communication of a clear benefit, you can ask the recipient for a minimum of additional data, e.g. date of birth, postal code, interests, product categories, etc. These attributes will be of use to you at a later stage in segmenting your customers and prospects and tailoring the personalization of the communication.
«Recognize that the best email acquisition sources are always those that are closest to your shopping and customer service operations. Subscriber Quality declines and the risk of spam complaints rises the farther you get away from these operations.»

Chad White in «E-Mail Marketing Rules»
In other words, collecting email addresses is a strategic endeavor and can go through every touchpoint the prospect has with the company. Contests generate a lot of email addresses, but their quality is highly questionable. Ultimately, do you want a lot of non-active newsletter recipients or good performance in delivered mailings?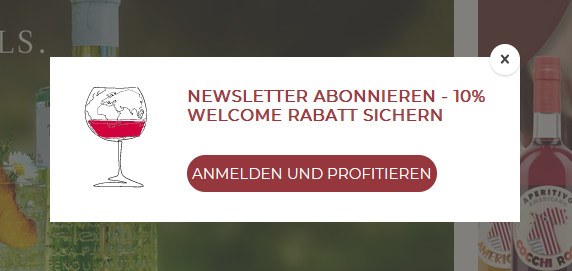 An easy and organic way to generate leads is to make the newsletter signup as prominent as possible. The overlay is the simplest variant.
Technology and innovation
Technology is unimportant for this approach, but the consistent implementation of a strategic decision to collect e-mail addresses at all touchpoints in the company is. Far too few companies act consistently according to this principle. Too many believe that broker addresses will lead to quick success.
Advantages
Recognize email channel as strategic push dialog
Continuously build customer base
Use website specifically for newsletter subscription
Communicate advantages of newsletter subscription