More than 150,000 companies already rely on Salesforce. When it comes to a CRM evaluation, almost no company in the world can avoid an evaluation of the market leader. The various platforms can be combined and linked depending on requirements. Whereas in many small and medium-sized companies there is no sharp separation between sales and service teams, in global companies with service-intensive, multilingual products and services you will find a clear separation of the sales and service teams. To make collaboration between the two teams as simple and efficient as possible, it is a good idea to use a single platform that can be shared by both the sales and service teams.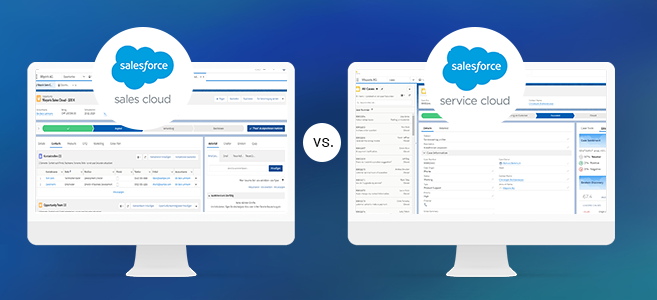 Here, Salesforce® offers a unique, native platform with the same Lightning user interface with the combination of the Sales and Service Cloud (Customer 360 platform, often called "Full CRM"), which is being used by more and more companies worldwide.
Which of the two cloud solutions better fits your needs?:
Some features of Sales Cloud can also be covered by Service Cloud and vice versa. Here are the most important similarities and distinctions that can help you decide. The Enterprise Edition serves as the basis in each case.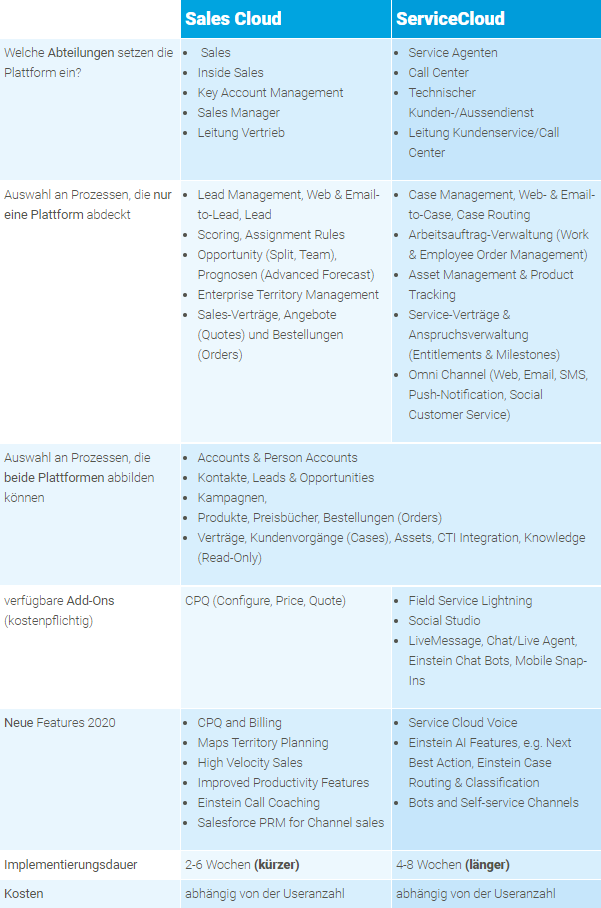 What sets the Sales Cloud apart?:
Sales teams from all industries and regions are facing new challenges. The last few months with the Corona pandemic have turned the current rules of sales upside down. Many companies are currently looking for new ways to return to their usual revenue growth. The new functions of the Sales Cloud can offer help here.
Salesforce Maps helps efficiently route all sales reps – a MUST for all companies with a large mobile sales and service workforce.
High Velocity Sales is designed to increase sales rep productivity and provides guidance on how to reach a new prospect with sales cadences. Queues provide a personalized list of prioritized tasks for the workday.
Einstein Coaching gives managers insight into how sales reps respond to objections, discuss pricing and explain solutions even when they are not in the office together.
The quote and invoice feature allows companies to offer flexible quotes and prices to customers during difficult times.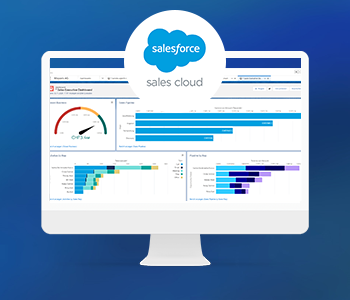 Sales Cloud appears on Gartner's list of the world's best Salesforce Automation vendors for the 14th year in a row.
And what sets the Service Cloud apart?:
The Service Cloud provides every service employee, from call center agents to mobile service technicians, with the most important data and tools. In addition, powerful automation tools and AI features are of course also at the start, which can be operated via all possible analog and digital channels. In addition, there are innovative new features this year.
A flexible agent console with natively integrated telephony via Service Cloud Voice, digital channels including newly added channel menu, messaging for WhatsApp, agent-initiated messaging and a 360° customer view.
Embedded AI and process automation such as Einstein Item Recommendations, Einstein Case Routing, Einstein Case Classification, Next Best Action to make service faster and more efficient.
Self service channels and bots can provide knowledge articles based on a customer's search terms. The customer can be helped immediately and support can be scaled. In fact, Salesforce saw a 97% increase in bot usage from February to April of this year. As a result, many companies were able to handle the surge in service requests due to COVID-19.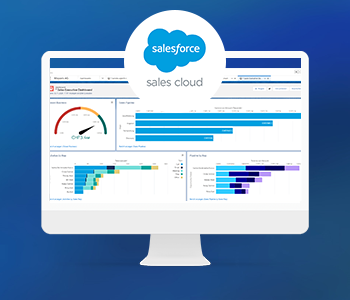 Service Cloud is ranked among the world's best CRM Customer Engagement Center providers for the 12th year in a row.
And now to the initial question: is the Service Cloud the better Sales Cloud?:
The Service Cloud has undergone extreme functional development in recent years in response to customer demand for more services. In addition to the traditional communication channels of e-mail and call center/telephone, services can also be efficiently mapped in the Service Cloud via the online channels of website, store or social media – via chat, bots and voice.
That's why more and more new Salesforce customers, especially in the startup sector, are opting for the Service Cloud from the outset, using the joint Sales/Service Cloud functions (see table) to cover all the requirements on the part of the sales teams. This trend is also reflected in Salesforce's sales figures: revenue from the Service Cloud unit overtook the Sales Cloud unit for the first time in 2019.
As Sales Cloud & Service Cloud consultants, we work on both platforms every day. We would be happy to help you decide which platform better suits your needs.